Time for Space-Based Missile Defense!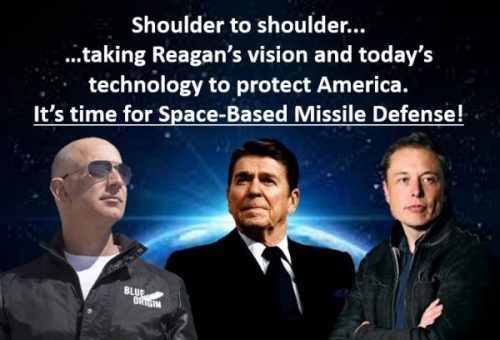 Bloomberg recently reported that 16 of the world's 500 richest people have investments in space with Jeff Bezos alone spending $1 billion a year. In 2016, there were at least 225 private space ventures receiving an additional $3.1 billion in private equity investments. While North Korea threatens the U.S. and our allies daily with the prospect a nuclear EMP attack, there might just be an opportunity for an extraordinary return on this investment.
Ambassador Hank Cooper – who served as President George H.W. Bush's director of Ronald Reagan's Strategic Defense Initiative – suggested that the nation employ these "commercial-off-the-shelf" technologies to resurrect Reagan's vision of space based ballistic missile defense – which would be the most cost effective ballistic missile defense systems possible today. Let's hope and pray that our President and Congress agree!
Learn more about Ambassador Cooper, Ballistic Missile Defense, and the imperative that we secure our grid against EMP at High Frontier.