Prepper Chicks After Dark – Annie and Mike on the electric grid!
---
Prepper Chicks After Dark with host Annie Berdel and guest Michael Mabee!
Annie Berdel is the author of several books and the leader of the popular "Prepper Chicks" brand on social media: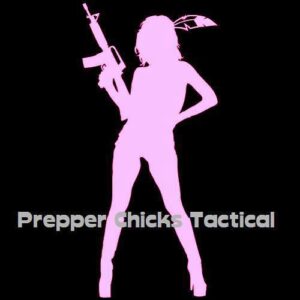 Annie Berdel's Books:
Michael Mabee's Book:
Also listen to our May 2019 Prepper Chicks After Dark interview HERE.
---
Annie's Bio
(from her website):
Based in Indianapolis, Annie Berdel is a self proclaimed advocate of educating women in the art of personal protection and self reliance.

As an aspiring writer, Annie took her advocacy and dove into the dystopia genre with strong female lead characters. She surrounds herself with real woman ~ bad ass woman who might not have it all together but never quit. They are real and beautiful and out there fighting for all that is right in the world. They carry deep scares and jars of shed tears, but they still love and still laugh and still lift people who need the help.

A passion for firearms, herbal medicine, knives, slingshots, home canning, Kali street fighting, Kempo karate and a plethora of furry animals fuels the fire and adds countless stories to be told beginning with her inaugural book "Alpha Farm, The Beginning".
---
[wpedon id="5868″ align="center"]
---