VIDEO: Rep. Trent Franks tries again with EMP bill
Arizona Rep. Trent Franks, R-Glendale, has failed to get support before for his Shield Act to protect the nation's power grid from electromagnetic pulse attacks. But new doomsday docudramas could jumpstart the bill. Cronkite News reporter Shayne Dwyer has the story. Video Story By Shayne Dwyer. Tuesday, Dec. 3, 2013 (Time: 1:33)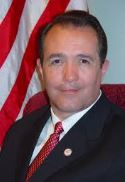 Rep. Trent Franks has introduced two critical infrastructure bills in this session of Congress:
H.R. 2417 Secure High-voltage Infrastructure for Electricity from Lethal Damage (SHIELD Act), 113th Congress (June 18, 2013).

H.R. 3410 To amend the Homeland Security Act of 2002 to secure critical infrastructure against electromagnetic pulses, and for other purposes. 113th Congress (October 30, 2013).
To see copies of  other government documents on electric grid security, click here.