Chinese Transformers in the Electric Grid: Lights Out For NYC?
---
Chinese company claims that 10% of New York City's electricity runs through its transformers.
A Chinese company,  JiangSu HuaPeng Transformer Co., Ltd. (a.k.a. "JSHP Transformer"), claims that 10% of New York City's electricity runs through its transformers. Does Beijing have an on/off switch?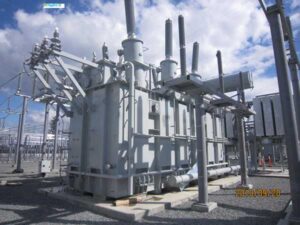 Most Americans do not read press releases put out by Chinese companies. However, on January 2, 2018, JSHP Transformers, a company out of Jiangsu Province, China announced:
"With delivery of a 345KV GSU & shunt reactor to Bayonne Energy Center at Bayonne, NJ who exclusively powers the NYC, JSHP transformers support 10% of the whole New York City since 2012." [sic]
JSHP Transformer had previously delivered transformers to the Bayonne Energy Center (which supplies NYC) in 2011 and 2017. JSHP claims to have delivered over 100 transformers to the U.S. and Canada since 2009, and business is brisk – they have many U.S. orders pending, according to their website:
"During this November, JSHP has been awarded to design, manufacture, and supply of 11 units of power transformers to the US clients , the size up to 230KV 330MVA, including two units of 230kV 240MVA FR3 GSUs to offshore wind platform installations. " [sic]
JSHP also claims to handle 18% of the electric load for Las Vegas, Nevada.
So what is the problem with using Chinese transformers (and other equipment) on the most critical of our critical infrastructures? In fact, the U.S. has imported 300 large power transformers from the People's Republic of China since 2006. At least 200 of these Chinese transformers are embedded in our electric grid. So these must be safe, right? We wouldn't be importing them if the weren't safe, right?
Wrong.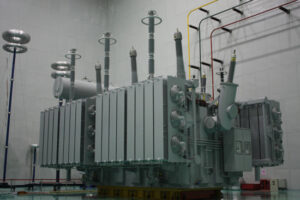 Do Chinese Transformers Pose a Threat to Our National Security?
On May 27, 2020 the Wall Street Journal reported that a Chinese built transformer was seized by the government and diverted by the federal government from its intended destination (the electric grid that feeds Denver, Colorado) to Sandia National Laboratories.
Control Systems Cybersecurity Expert, Joseph M. Weiss noted that Executive Order 13920 was issued in response to real nation-state supply chain cybersecurity threats to the US grid:
"Government and public utility procurement rules often push organizations into buying equipment due to price and without regard to origin or risk. In this case, it resulted in a utility having to procure a very large bulk transmission transformer from China. When the Chinese transformer was delivered to a US utility, the site acceptance testing identified electronics that should NOT have been part of the transformer – hardware backdoors. That transformer now resides at a government installation."
Back on April 25, 2019, E&E News discussed this issue in an article entitled "China and America's 400-ton electric albatross." They reported:
"There have been over 200 Chinese transformers that have come into the U.S. energy sector in the last 10 years," said Charles Durant, deputy director of counterintelligence at the Department of Energy. "Before that, there were zero."
Cybersecurity threats to our electric grid are real. China, Russia, Iran and North Korea (and others) are threats to the electric grid. Consider just a few of the many incidents over the last few years:
So What's The Problem? Obviously "they" must be on top of it?
Fact: There is no requirement that anybody go back and check the 200-300 existing Chinese transformers that are already hooked up to our critical infrastructures.

Fact: The Executive Order on Supply Chain Cybersecurity (which only applied to new acquisitions) has been suspended for 90 days.
You read that correctly. There are over 3000 public and private sector entities that own or operate pieces of the electric grid from the generation of electricity, the transmission of electricity and the distribution of electricity. The industry is largely self regulated and the regulatory scheme is mind numbingly complex. (Click HERE for a primer.) And nowhere in here is there any requirement that we make sure all these transformers we have imported from the People's Republic of China – an adversary with a demonstrated track record of hacking our grid – are checked to make sure there is no "On/Off switch" in Beijing. And presently, our electric grid can buy more of them!
How do we fix this?
We need Congress to hold hearings on the supply chain cybersecurity of the electric grid.
We need the Department of Energy to recommend a stronger supply chain cybersecurity order to the President.
We need people across the country to Take Action.
---
Appendix: Where's Waldo? A few known Chinese Transformers in the Electric Grid:
Bayonne, NJ (Supplying New York City – Delivered by JSHP in 2011 and 2017)
Houston, TX (Delivered by JSHP June 2020)
Blackwater HVDC Station, NM (Delivered by JSHP February 2019)
Las Vegas / Laughlin, NV (Delivered by JSHP October 2016)
PacifiCorp Oregon substation (Delivered by JSHP October 2015)
Niagara Hydroelectric Power Station, NY (JSHP 2010)
Flynn Power Plant, Holtsville, NY (JSHP 2010)
AES, Virginia (JSHP 2010)
BC Hydro (JSHP delivered in 2010)
Lakelan, FL (JSHP delivered in 2009)
Grand Dam River Authority, OK (Delivered by JSHP 2010)
Nebraska Public Power District (Info HERE)
Caribe G.E. General Electric (Info HERE)
M.A. Mortenson, Texas (Info HERE)
According to JSHP's advertising pitch: here are some entities that have purchased Chinese transformers:
Massachusetts' Braintree Electric Light Department (BELD)
Bechtel
Fluor
Florida Power & Light
PacifiCorp
Iberdrola
BC Hydro
Fortis
Public Service Company of New Mexico (PNM)
NV Energy
New York Power Authority (NYPA)
Sacramento Municipal Utility District (SMUD).
---
References:
---
[wpedon id="5868″ align="center"]
---